Chris Bell - RISC OS Computers
RISC OS is the brilliant 'Windows' operating system devised by Acorn Computers in the UK, predating Micro$oft's version by several years. It's inherently faster, less complicated and more stable than Windows or Mac computers, and most users find it more intuitive to use. Another bonus is that YOU're in control, unlike Windows and Mac computers which have a mind of their own.
My RISC OS desktop
RISC OS comes with a basic 'desktop' which groups regularly-used applications in an 'Apps' folder. But one of the beauties of RISC OS is that it allows one to reorganise things in different ways. I regularly use dozens of different apps and have therefore reorganised them into groups. This is part of my customised desktop (bottom left corner):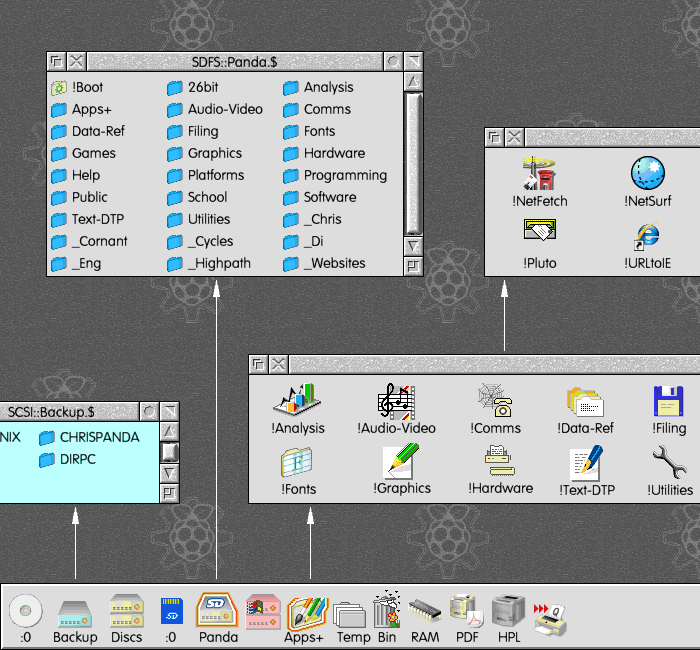 (note: Andrew Booker's AppsClock used to reorganise the Apps folder)
top of page

Hardware
RISC OS runs on modern ARMX6, RapidO, Pandaboard, Beagleboard and Raspeberry Pi computers and in emulators on Windows, Mac or Linux computers.
Software
All the usual software applications are available and they all work together in a true multi-tasking environment. Highpath Engineering was a 100% Micro$oft-free zone and I continue to use RISC OS computers for all my computing needs...

Desktop publishing, Wordprocessing, Databases, Speadsheets, Accounts, Statistics,
Internet, Web page design, Email, Graphics, Photography, CAD, Engineering, etc

RISC OS users can exchange data with Windows, Mac, Linux and smartphone users via industry-standard file formats like PDF, HTML, JPEG, CSV and even a few non-standard ones like M$ Word. There are many advantages to being a RISC OS user and very few disadvantages!
top of page

CAD-CAM software
ProCAD+ is a very affordable Computer Aided Drawing package designed for engineers in the real world. It assists in the creation of accurate, high quality, 2 dimensional drawings which can be printed, used in desktop publishing, exchanged with other CAD packages and used in Computer Aided Manufacture. It's what I've used to prepare the drawings for everything that I've manufactured and published, including all the line drawings and maps on this website. I don't believe there's anything else in its class.

I wrote ProCAM to convert ProCAD+ drawings into CNC part-programs ready for machining. It was in daily use at Highpath Engineering for everything that I manufactured over 25 years. Although it remains unfinished, feel free to contact me if you're an engineer who might find it useful.
top of page

Free software
Because RISC OS computers are so starightforward to program, there's a large amount of excellent 'Freeware' and 'Shareware' ready for downloading from the Internet. Here are some things I've written that you might find useful:
Commands
Place these files in your Library directory to provide extra commands to use in Obey files. Further details inside each file.

CloseTask : Close a specified task.

Wait : Wait a number of wimp-polls or centiseconds before proceeding.

Lock : Lock the computer if a password is set.

Unlock : Unlock the computer.

LockStatus : Sets a variable to indicate the computer's lock status.
Utilities
A selection of useful applications. Further details accompany each one.

AltMode (0.10) : Provides a quick way to switch between 4 screen modes.

Duplex : Control your printer's manual and duplex (double-sided) paper-feeds from within 'Printers'.
FDisplay (1.00) : Determines how chosen directories are displayed, regardless of your normal Filer display settings.

Flasher (0.10) : Makes the desktop caret flash so it's easier to see.

LockDir (1.00) : Locks files in chosen directories to prevent their accidental deletion.
MDFs : Monitor Definition Files for Acorn and Iiyama 17" crt monitors. Includes technical notes to help you write your own MDFs.

RemoteLJ (1.05) : Control the settings on a 600dpi HP LaserJet printer, including 'Economode', from your desktop.
RPCInfo2 (1.07) : Extends Rosemary Miskin's 'RPCInfo' application, displaying a variety of useful information on the iconbar.

ScrapClean (1.04) : Cleans your Scrap directory when you switch on your computer, retaining only important files.

Temp-Bin (1.05) : A convenient and safe means to save working files and bin unwanted ones.

NetSurf (3.3) : A set of alternative pointer sprites for NetSurf - arguably nicer than the originals.
top of page

Links
Modern RISC OS computers
Specialist UK suppliers