Chris designed and made...
Pedal Extenders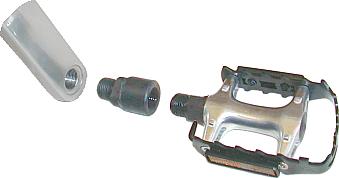 Pulse Pedal Extenders place your feet further apart by moving each pedal out 23mm.
They can help riders with twisted feet who might otherwise hit the cranks with their heels or their toes. They can also help to reduce hip, knee, ankle or foot pain in certain less agile cyclists.
Pulse Pedal Extenders are still in production and can be ordered from Highpath Engineering.
top of page

Customer feedback
Thank you for supplying 2 pairs of Pulse Pedal Extenders. Having broken my ankle, I was unable to ride without catching the ankle bone on the crank. Thank you for supplying what I knew I needed!
(SS, UK, 2011)

The Pedal Extensions you sent me are great. Previously, the bike made my knee joints hurt to the point that it was no longer a pleasure to ride, and my calves were striking the crank with every rotation of the pedals; they are now well clear.
(TA, UK, 2009)