£ 8,500 raised for 'Cyclists Fighting Cancer'
I cycled 5000 km from Wales (UK) to Istanbul (Turkey) during the autumn of 2012, riding about 50 miles a day through 13 countries, camping wild at night, hostelling and staying with Servas friends. I particularly enjoyed meeting people along the way and learning more about the countries of Eastern Europe.
I had a lot of fun, and just a few setbacks, along the way. Although some days were tough, others were idyllic and I have many wonderful memories. I'm a firm believer in the notion that the more you put into something, the more you get out of it!
Once again, lots of generous people sponsored me and over £ 8000 has been raised for Cyclists Fighting Cancer. This charity provides specially adapted bikes, trikes and tandems for children and young people who've been affected by cancer. These can have a remarkable effect on both the physical and mental recovery of young cancer survivors and their families. Many thanks to everyone who has donated so much money.


Click on the map or the photos to enlarge them...
top of page

Background
I have prostate cancer, a disease which kills 30 men every day in the UK. I've undergone treatment with radiotherapy, chemotherapy and hormones over the past 10 years and my cancer has now spread to my spine. But it's focussed my outlook on life and I've enjoyed these years, in its shadow, with a new appreciation of just how wonderful life can be. So don't let the years pass you by - make the most of every precious day you have!
I've given several illustrated talks of my trip since returning from Istanbul. Please contact me if you're looking for a speaker.
top of page

Summary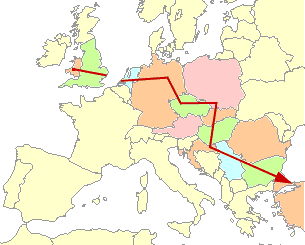 12 countries:
(12 languages)

UK, Netherlands, Germany, Czech Republic,
Austria, Slovakia, Hungary, Serbia, Croatia,
Romania, Bulgaria, Turkey


Time taken:
Distance cycled:
Average daily distance:

66 days cycling, 22 rest days
4987 km / 3117 miles
76 km / 47 miles


Accommodation:
(nights)

wild camping (35), campsites (10),
friends / Servas (22), hostels/hotels (18),
ferry (1), hospital (1)


Weather:

hot (Netherlands, Aug), warm (Turkey, Oct),
10 seriously wet days


Bicycle:
Bicycle problems:
Weight carried:

customised Dahon Cadenza folder
1 puncture
17kg (bike) + 14kg (luggage) + 72kg (me)
= 103 kg total
Kindness
As always seems to happen when I venture into pastures new, a lot of kindness and generosity was shown to me. Here are some examples...
Spontaneous friendship given to me by so many kind and welcoming people in every country I visited.
Coffee, chai and beer bought for me, time and time again, by complete strangers.
Overnight hospitality afforded me by so many friends and Servas hosts along the way
- thank you Hazel, Mike, Frank, Jenny, Graham, Hans, Doris, Hans, Ivana, Ladislav,
Pavla, Anna, Adam, Zita, Bence, András, Manie and Igor.
Frank, who put me up at very short notice when I was unwell in Bristol.
Hans and Doris, who took me to a fabulous outdoor Shakespere production in Hannover.
Beate and Michael in Germany, and Joó in Hungary, who paid my campsite fees.
The Romanian market-stall holder who gave me lots of fruit in Germany.
The German students who I joined in the Czech Republic and who donated generously to CFC.
The ferryman in the Czech Republic who made an on-the-spot collection for CFC.
Dennis, who spent 2 hours guiding me round the suburbs of Prague to my IVS hosts.
Joy, who gave me a bed in Vienna and looked after me when all my luggage was stolen.
Susanna and Andrew, who guided me along safe routes into the centre of Budapest.
The man in the Bulgarian bar who bought Lewis and me a large bag of groceries.
Osman, who guided us through the last 10 km of busy roads in Istanbul.
And, of course, all of YOU who donated money to Cyclists Fighting Cancer.
My sincere thanks to all of you - friends, family and complete strangers alike.
top of page

Problems
Most things went very well - even the weather remained mostly favourable! But I had a few health problems...
My first few days were impossibly tough. I was still weak from radiotherapy and had clearly set off too soon.
I nearly gave up in Germany due to a sustained attack of sciatic pain. Thank you Dr.Emyr for sorting me out over the phone.
A tick attached itself to me in the Czech Republic - it was huge by the time I noticed it a week later!
My strength was zapped by tummy bugs that I picked up in the Czech Republic and Turkey.
And...
All my luggage was stolen during the night at the campsite in Melk, Austria. It cost me over 1000 euros to replace everything in Vienna - and my travel insurance proved to be useless!
I was served a dead fly in my rice and broken glass in my curry in the 'Saroya' indian restaurant in Weissandt-Golzau, Germany.
It was impossible to avoid main roads around some of the big cities. Budapest and Istanbul were particular nightmares.