Chris Bell - My folding touring bicycle
I've been cycletouring for over 40 years and have had some very nice bikes, but I wanted one which folded in order to expand my public transport options. Now ingenious folding mechanisms are all very well but, for me, a bike is first and foremost for riding - and most folders compromise ride quality. What I was looking for was a folding, expedition bike that would be good to ride both on- and off-road. Quite a tall order!
Then Dahon launched their Cadenza range with specs that challenged my preconceptions and prices that I could afford. The Cadenza 8 has a full-size frame with an ingenious folding mechanism, hub gears, disc brakes and loads of other features. I examined one at the 2008 London Cycle show and fell in love with it. Although it wasn't exactly what I wanted, I knew it could be modified. So I bought one to customise...
top of page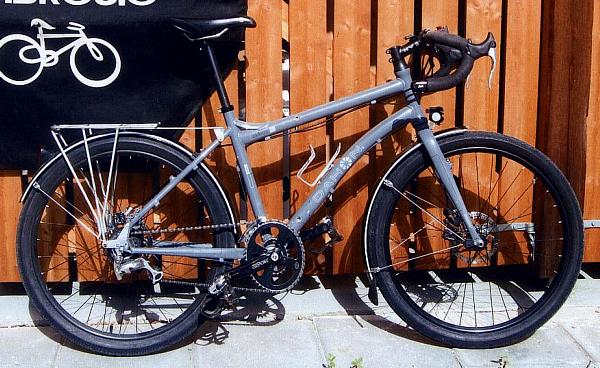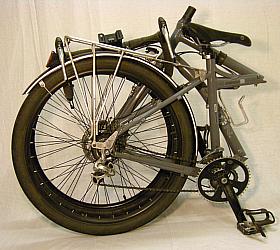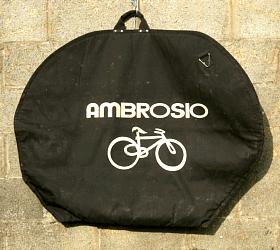 top of page

Customisation
The basic bike was a medium size 2008 Dahon Cadenza 8 'mountain bike' with a folding aluminium frame, 26" alloy wheels, disc brakes and hub gears. I've customised it as follows:

Frame:

Folding Dahon Cadenza frame with Lockjaw hinges and eccentric bottom bracket*
(mine needed a few corrections - see below)
NVO demountable handlebar stem*
BioLogic alloy seatpin which doubles as a track pump*


Gears:

8 sp Shimano Alfine hub gear* + Jtek barend shifter (modified to resist sideways knocks)
2 oval EGGrings (25-48) + customised Truvativ crank
Shimano Deore front mech (modified to increase its capacity) + SunTour barend shifter
Shimano 105 rear mech (stripped for chain tensioning only)
Gear range: 17-101 inches / 1.36-8.06 metres / 1.23-7.33 ratios


Brakes:

Shimano mechanical disc brakes*
Dia-Compe drop levers + Promax inline (top) levers


Comfort:

Schwalbe 50mm 'Big Apple' tyres* (with garish graphics removed)
559x19mm deep-section alloy rims*
Koobi PRS-Enduro sprung/padded leather saddle with central 'pressure-relief' hole (essential!)
Syntace drop handlebars + closed-cell foam padding + Velox cotton tape
Welgo flat pedals + Christophe toeclips + straps


Luggage:

Customised alloy pannier rack + custom frame brackets
Ortlieb Back Roller Plus rolltop panniers (with upgraded fixings)
Ortlieb barbag + customised bracket and strap retainer
4 Arundel Sport bottle-cages (not illustrated)


Lighting:

Schmidt hub dynamo
Schmidt Edelux headlamp (not illustrated)
B+M rear lamp (not illustrated)


Other:

Tortec reflector mudguards
Giant wireless computer + custom transmitter bracket
Mirrycle mirror with custom mount (not illustrated)
Vavert bell with ball compass (not illustrated)


Bag:

Customised padded bag to protect the folded bike in transit
(folded in half, this doubles as a comfortable camping mat)

( * original Dahon parts - everything else added)
top of page

Proof of the pudding
There was always the possibility that I might find such a jack-of-all-trades to be too much of a compromise but, on the contrary, this has turned out to be my best bike ever. It weighs 3kg more than my Dawes Galaxy but... It is more comfortable to ride, rolls just as fast on the road, is more stable when loaded, handles well offroad, brakes well in all weathers, and its gears and lighting are brilliant.
I love the way it folds and can be taken on public transport, yet it locks together rigidly and, when ridden, handles without compromise. Basic folding is achieved with an allenkey in seconds and the most compact package takes about 15 minutes.
This bike has opened up new opportunities for me; for example, I can now ride twice as far and return by bus, my folded bike travelling free. I undertook a tough Norwegian tour on it in 2009 and even tougher trans-European tours in 2010 and in 2012, all with full camping gear and following a variety of surfaced roads and rough tracks. The bike was a joy to ride - it's a really fabulous bike!
The bike's main disappointment has been its Lockjaw hinges. Despite their clever design, they're not quite strong enough when made in a soft material like aluminium and, to make matters worse, every one that I've examined has suffered from poor manufacturing tolerances. Creaking is the Cadenza's tell-tale sign that something's amiss. I've serviced many Lockjaw hinges but, even when working properly, mine needed re-engineering after about 7,500 km and again at 15,000 km. I've now reinforced my lower hinge with a stainless steel clamp...
But, despite this shortcoming, my customised Dahon Cadenza is still my all-time favourite bike!
top of page

Lockjaw reinforcement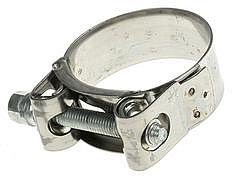 This stainless steel clip is a stronger version of the common 'jubilee clip'. Purchase the 44-47mm size and replace the M6 hex-bolt and spacer with an M6 x 45 stainless socket-screw. Grease the screw lightly.
The clamp is placed around the lower Lockjaw hinge. Do it up VERY tightly, so that it deforms to match the hinge's profile.
It also helps to tighten both M6 Lockjaw screws (underneath, as visible in the last photo).
When folding the bike, first loosen the Lockjaw screws. Then loosen the clamp and slide it down, out of the way, as shown.
The top Lockjaw isn't as easy to reinforce, but this doesn't seem to matter as it's much less stressed than the bottom one.