£ 10,500 raised for 'Médecins Sans Frontières'
Another long-distance, fundraising trip on my own, this time over 3000 km from Wales (UK) to Gibraltar in aid of 'Médecins Sans Frontières' (Doctors Without Borders - MSF). Over £ 10,000 had been raised by the time I'd returned home - thank you to everyone who donated so generously.
MSF is a humanitarian organisation which provides medical-aid where it's most needed, regardless of race, religion, politics or gender. It won the Nobel Peace Prize for raising awareness of the plight of the people it helps and for fighting the vested interests of the giant pharmaceutical companies. It's an independent, impartial organisation for which I have huge respect. As I rode across France and Spain, MSF was fighting the Ebola outbreak in W.Africa.
I rode around 40 or 50 miles a day, camping wild at night, hostelling and staying with Servas friends. This trip proved to be much tougher than any of my previous ones and my daily progress was often painfully slow. But I know that the more you put into something, the more you get out of it and, of course, I was motivated to keep pushing on as I was raising a lot of money for MSF. All things considered, I had a really great time!

Click on the map or the photos to enlarge them...
top of page

Background
Prostate cancer kills 30 men every day in the UK. My own cancer is now advanced, the disease having spread to my spine where a tumour is causing me a number of problems. I was only able to undertake this trip with the help of a pannier-bagful of pills; even so, things took a turn for the worse when I reached Spain - see below.
Cycletouring in the shadow of cancer has been both a challenge and a joy. I'm a firm believer in the notion that the more you put into something, the more you get out of it. My diagnosis was a wake-up call to make the most of every precious day I have and my advice to everyone else is to do the same!
I've given several illustrated talks of my trips with prostate cancer. Please contact me if you're looking for a speaker.
top of page

Summary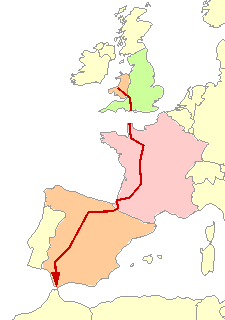 4 countries:

UK, France, Spain, Gibraltar


Time taken:
Distance cycled:
Average daily distance:

50 days cycling, 12 rest days
3425 km / 2141 miles
69 km / 43 miles


Accommodation:
(nights)

wild camping (21), campsites (11),
friends / Servas (14), hostels/hotels (16)


Weather:

warm (UK, France), hot (Spain),
5 seriously wet days


Bicycle:
Bicycle problems:
Weight carried:

customised Dahon Cadenza folder
none
17kg (bike) + 14kg (luggage) + 72kg (me)
= 103 kg total
Thank you...
Ruth and Huw near Bristol, UK, for their hospitality at very short notice.
Andy, Sonia and Lilly for their hospitality in Bradford-on-Avon, UK.
Mum, Jenny and Graham for letting me rest in Wareham, UK, before catching my ferry to France.
Nicole and Michel in Annonville, France, who let me stay in their gite free-of-charge.
Agnes, Gustave and family who sponsored me at their Lessay market stall and bought me a meal when I bumped into them again by chance in the Dordogne, France, 2 weeks later.
Alain and Xavier who made me a new part for my broken tent pole, free-of-charge, in their Genêts workshop, France.
Isabelle and Steffan at l'Auberge in Daon, France, who wouldn't let me pay for my meal.
Lewis for 3 nights hospitality near Limoges, France, and for helping me mend my shorts.
Claude who gave me a lovely day in Bergerac, France.
Sylvie and Didier who took pity on me in the rain at Moncrabeau, France, took me home and fed me magnificently.
The group of Japanese tourists who donated money to MSF in St.Jean-Pied-de-Port, France.
Philip, from Ireland, who bought me my 'Pilgrim Credentials' and map at Roncesvalles, Spain.
Ana, Pedro, Lara and Sergio for a week's warm hospitality in Burgos, Spain.
Juan who showed me the way into Valladolid, Spain, when I was lost.
Beccy and Rob who I joined for my last 3 days cycling into Tarifa, Spain.
Melissa, the Gibraltar Charity Commissioner, who organised 2 street-collections for me at very short notice.
Jordan, the Gibraltar Tourist Officer, who gave me and Di passes for all the major Gibraltar sites.
And, of course, all of YOU who donated so much money to MSF - friends, family and complete strangers alike.
top of page

Problems
My tent pole broke on my 3rd day in France and my Heath-Robinson repair probably wouldn't have lasted long. I was fortunate to find Alain and Xavier who mended it for me in their engineering workshop a couple of days later.

Serious disappointment when I was prevented from visiting a centre for handicapped adults at Frespech, France, where Di and I had worked on an IVS workcamp some 30 years earlier.

A strong headwind and unbelievable heat zapped my energy in the middle of Spain.

Wild camping was often difficult in Spain as the wide-open plains afforded very few places to hide.

Reduced energy levels meant that my daily progress was often much less than I'd hoped to achieve. I very nearly returned home when I reached northern Spain due to the pain and exhaustion that were getting the better of me. Instead I stopped and rested for a week and recovered enough to continue all the way; however I took a shorter route, missing out Portugal altogether. I found the last couple of weeks from Cáceres to Gibraltar particularly hard and got off to push my bike up every little hill, however gentle its slope. In hindsight, maybe I should have returned home after all! (I underwent an urgent course of radiotherapy as soon as I got home and now take a new wonder-drug which, hopefully, will keep me going for a little bit longer - thank-you, NHS!)