Chris Bell - Cranks, chainrings and chainsets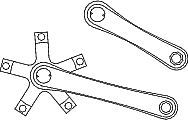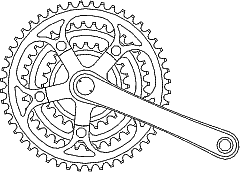 top of page

The cheapest cranks are cast from a soft grade of aluminium alloy, where molten metal is simply poured into a mould. The strongest aluminium cranks are forged from a high grade alloy - they are hammered into shape in massive presses. Both types of crank can then be machined to increase their dimensional accuracy, as forged ones invariably are, but this doesn't alter their strength.
Unfortunately all aluminium cranks look similar to the untrained eye so it is worth taking advice when buying a pair. Don't be fooled by the deliberate misuse of the term 'forged' as I've even seen that label written on the backs of poor-quality cast cranks. Fortunately, however, many cast cranks are perfectly strong enough for normal use.
Other materials and processes can also used, and some are good whilst others are poor. The worst cranks I have ever seen were made of plastic with an expensive veneer of carbon-fibre stuck to them.
A lot of rubbish is written about chainsets. In order to transmit maximum power, you need accurately made, stiff cranks which don't flex under load, and accurately made, strong chainrings which run true - even if they do weigh a few grams more than other chainsets. Finally you may see references to irrelevant terms like 'Q-factor' but they mean little in practice and can be ignored.
top of page

Crank and chainring pcd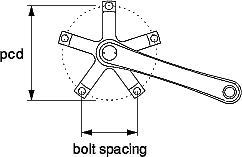 PCD (pitch-circle diameter) and BCD (bolt circle diameter) are the same thing; they measure the diameter of an imaginary circle passing through the chainring fixing bolts and determine the smallest chainring that can be fitted to a crank. The pcd can be difficult to measure directly, so the bolt spacing (measured centre-to-centre) is often used instead. Most 'triple' cranks have 2 sets of chainring bolts - one pcd for the outer and middle chainrings, and a smaller one for the inner chainring.
Cranks and chainrings can have up to 6 arms and chainring bolts. Choose a common pattern so you can find replacement chainrings when you need to, for example:
no of
arms
outer/middle
pcd (mm)
inner
pcd (mm)
smallest
chainring
comments
Compact Drive
4 arm
MTB triple
5
4
5
94
104
110
58
64
74
20t
21t
24t
good for low gears
good for low gears
common on older bikes
Road 'Compact'
Shimano 'Road'
Campag 'Road'
5
5
5
110
130
135
33t
38t
39t
no inner chainring
chainrings too big for general use
chainrings too big for general use
'Road' cranks, as used by racing cyclists, only take large chainrings and are inappropriate for most cyclists. Smaller pcds allow smaller chainrings to be fitted, providing lower gears for climbing hills and carrying loads comfortably.
Crank / chainring charts
These charts will help you identify your crank's pcd and what chainrings can be fitted to it. Count the number of bolts holding your chainring and click on the appropriate link below:
top of page

Crank length

It is important to use the correct length of crank to ensure that your legs can work efficiently. You risk damaging your knees if you habitually use cranks which are too long, especially as you get older. 170mm cranks, which most cycle manufacturers fit as standard to most bicycles, are unsuitable for anyone shorter than the average European adult male and are therefore too long for most people in the World!
Normally fit adult riders should use cranks which measure about 20% of their effective leg length, rounded to the nearest 5mm, whereas growing children can safely increase this figure to 22%. This length goes all the way to your hip joint and cannot be measured directly. Ask a friend to measure your height twice - first when you are standing upright against a wall, without shoes on, and second when you are sitting squarely against it. Then subtract one measurement from the other one, as shown below.

The following table shows recommended crank lengths for normally fit riders on upright bicycles, based on the 20% to 22% range. Even shorter cranks may be required by disabled riders with restricted knee movement and by users of faired racing recumbents (due to space restrictions). Additionally, riders with very long legs may need shorter cranks on standard upright bicycles, to prevent their toes hitting the front wheel or their pedals hitting the ground when cornering.

leg :
50
52.5
55
57.5
60
62.5
65
67.5
70
72.5
75
77.5
80
82.5
85
87.5
90
92.5
child :
adult :
110
100
115
105
120
110
125
115
130
120
140
125
145
130
150
135
155
140
160
145
160
150
165
155
170
160
175
165
175
170
180
175
180
180
185
185

Note that, not only do riders with shorter legs need shorter cranks, they also need smaller chainrings and will probably ride slower than riders with long legs and long cranks (rear cranks on tandems are an exception to this). Never try to achieve a higher gear ratio by using longer cranks.
Click here for information about crank shortening.
Click here for Pulse Crank Shorteners.
top of page

Chainrings

A wide range of chainrings is available to fit 5-arm cranks with common pcds like 130, 110, 94, 74 and 58mm, from cheap-and-nasty steel ones to expensive ones made from aerospace materials. Several of the mid-price aluminium chainrings are more than adequate for general use but, if you want them to run true and last a long time, it makes sense to buy the best.
Most chainrings are only available with an even number of teeth up to about 50 teeth. EGGring custom chainrings, on the other hand, allow you to specify any size you want up to 110 teeth. They are available in various weights, finishes and shapes, and most importantly, their aerospace material and full tooth profile mean they last much longer than other aluminium chainrings. EGGrings are made for all cycles, including racers, mountain-bikes and tourers, and they have been used to win Olympic gold medals and exhibitted in London's world-famous Science Museum and Millenium Dome.
There is often confusion about so-called '10 speed chainrings' and '11 speed chainrings'- but there are no such things as all derailleur chainrings are suitable for all systems from 3 to 11 speed. However some '10 speed' and '11 speed' cranks place their chainrings slightly closer together, but this isn't usually critical.